Create memory for life with Aleksandr Levchuk & Anna Galenda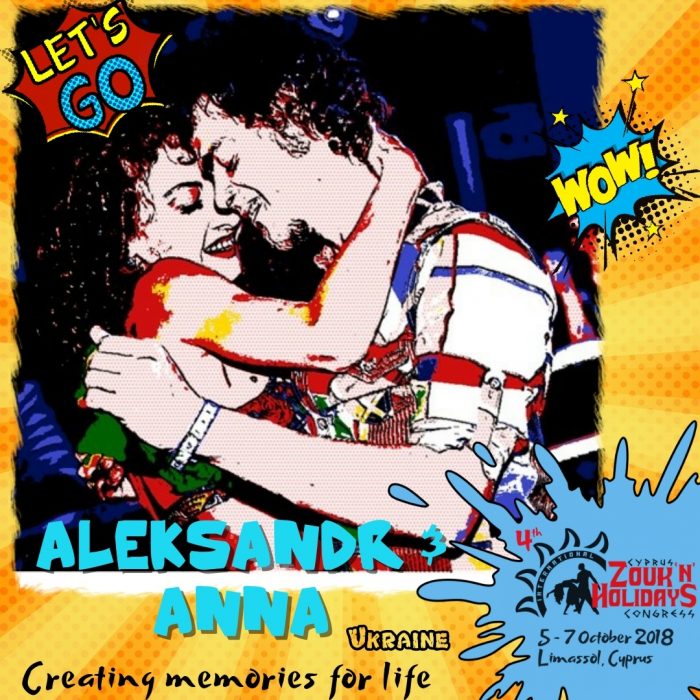 We're happy to announce a beautiful couple Aleksandr Levchuk and Anna Galenda from Ukraine as teachers and performances on our congress!
Aleksandr Levchuk & Anna Galenda are the founders, heads and teachers at Kharkov Zouk Dance Studio in Kharkov, Ukraine. They are considered to be "natives" of Ukrainian social dance community, being reputable teachers, remarkable dancers and outstanding choreographers in Ukraine with more than 13 years' experience in salsa casino and other social dances and more than 6 years of teaching together Brazilian Zouk and Bachata.
This couple has been giving lots of Zouk and Bachata workshops all over Ukraine and overseas in Russia, Belarus, Crimea, Germany, Cyprus, Poland, Lithuania and Latvia so far. They've been invited to most Zouk and Bachata festivals in their home country in order to teach classes and judge championships. Aleksandr & Anna were among the teachers' line-up, presented workshops and performed Zouk show at International 3rd Cyprus Zouk'n'Holidays Congress 2017 and 6th Warsaw Zouk Festival & Marathon 2018, they are confirmed teachers for Russian Zouk Congress 2018 and International Dutch Zouk Congress 2018. This artists are professional, attentive to details and personal-touch-type teachers and, more importantly, very easy-going and cheerful guys. Among their achievements (apart from being cool and lovable teachers for their students.
Anna and Aleksandr have won Russian Zouk Competition for 3 times (Category: Zouk Couples Masters+Show, Zouk Show) in 2014, 2015 and 2017 and got the Silver Cup at Russian Zouk Competition 2016 (Zouk Show); Aleksandr was 2nd and 3rd and Anna was 4th at International Zouk Rating Competition at Prague Zouk Congress, not to mention countless winnings of Zouk, Bachata and salsa competitions and battles in Ukraine. For two years in a row, in 2016 and 2017, this couple was awarded a prize at Russian Zouk Awards for contribution to the development of Brazilian Zouk in CIS.
Aleksandr and Anna organize their annual Kharkov Zouk'n'Bachata Fest & Competition since 2014, accumulating the best Ukrainian and international teachers like Jakub Jakoubek & Lusia Kubasova, Carlos & Fernanda da Silva, Adilio Porto, Rafael Latiff, William Dos Santos & Joanna Zwierzyńska and eager social dancers from all over Ukraine and abroad. Their favorite dance styles are Brazilian Zouk, as the dance with no limits in means of connection and self-expression and Bachata Sensual/Fusion, and they are always glad to share their knowledge and experience with those, who is in love with sensual dances and cares about connection and musicality, as they do.