Create memory for life with Kris Leczek & Rebekah Maher!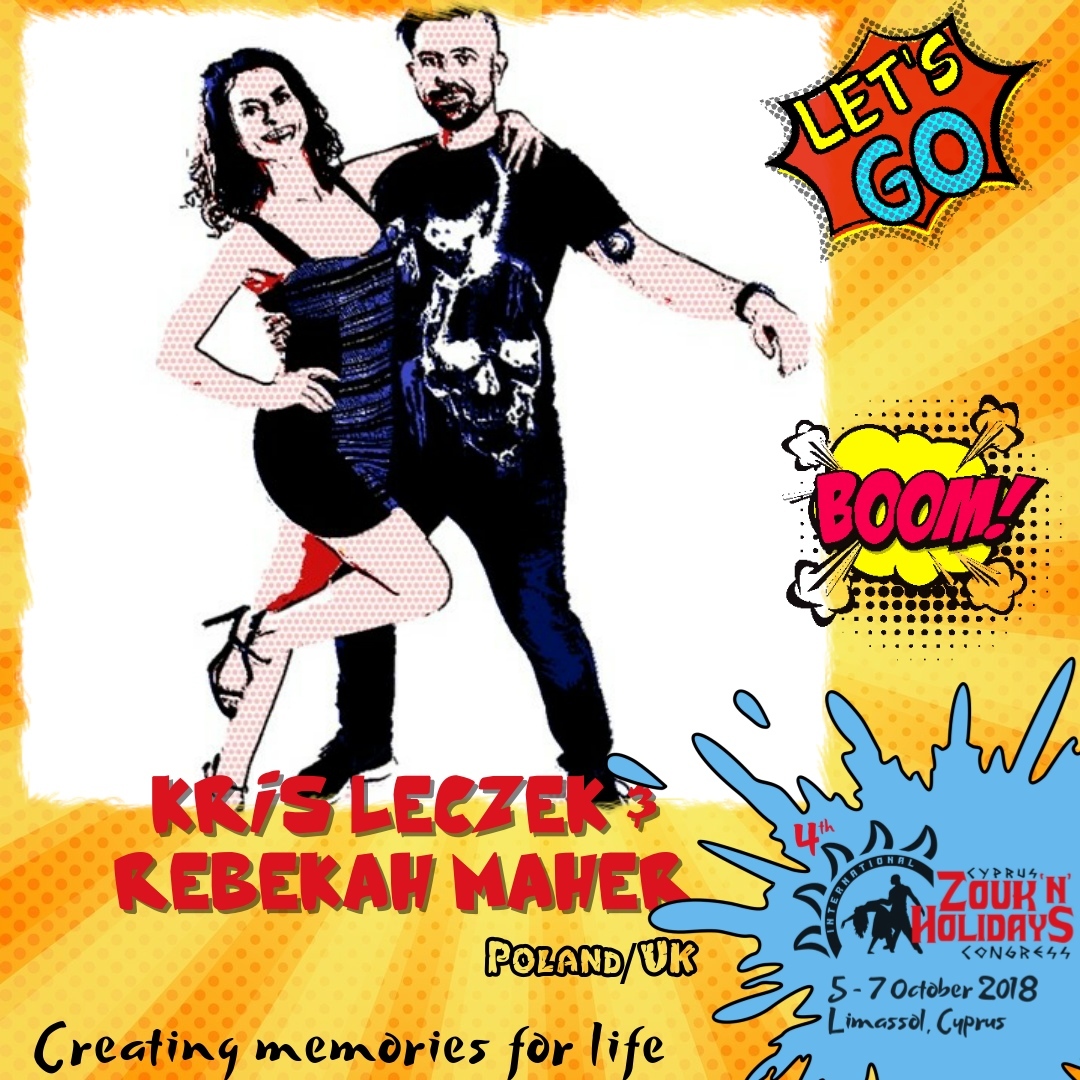 We're happy to announce amazing couple – Kris Leczek from Poland and Rebekah Maher from UK as a part of our 4th Edition!
Kris started dancing Zouk in 2011 and during that same year during his first trip to Brazil he discovered SoulZouk and began his training with it's creator China. Now he is the first non Brazilian who is a certified SoulZouk teacher and actively promotes this dance methodology at home in the UK and around the world. The fundamentals of SoulZouk are Comfort, Leading, Contact and Pleasure and you will discover these aspects in every class Kris teaches.
"I fell in love with SoulZouk as it has all the answers for me as a leader. It doesn't leave anything to chance and at the same time it gives me tools to handle every unexpected situation. Because it based on biomechanics it's as close to science as possible and has enabled me to develop an understanding of my own body and movements and follower's movements and capacities. At the same time SoulZouk means I can dance socially with all levels including beginners because I can quickly adapt to every follower. Ladies know that they will always get an interesting dance with me while staying safe and having time to breathe and relax."
In 2002 Kris started learning ballroom dancing and later Salsa and Bachata and by 2004 had won Jack and Jill competitions in Poland and Belgium.
Then in 2005 moved to London where he studied with teachers like Super Mario, Susana Montero and Tony Lara. In 2008 he started his dance school in Glasgow teaching crossbody style Salsa and Bachata and in 2009 completed his UKA club teacher certificate and also became certified Zumba instructor. Then in 2011 Kris moved back to London where discovered Brazilian Zouk and that changed his life forever. At the end of that year he traveled to Brazil where he discovered his mentor China and his methodology called SoulZouk. In 2012 after intensive training Kris started teaching Zouk to beginners at DanceBuzz and in the same year taught workshops back in Poland. And last year was his busiest so far – after completely his SoulZouk teacher training, Kris taught workshops in London, Birmingham, Bristol and Manchester in England, Sweden, Germany, Spain, Lebanon, Malaysia, Brazil, Singapore, Holland, Luxemburgh, Denmark, Switzerland and Poland.
Rebekah started dancing ballet as a little girl and danced her way through school and college, taking part in school plays and drama productions, making up dance routines on the school field and performing in front of friends and family. In her teens and twenties the nightclub was her dance studio. After the odd class of salsa, tango and contemporary dance, she stumbled across Brazilian Zouk and was immediately hooked. She trained as a SoulZouk instructor in Rio with China and Luciana in 2015 and is the first non-Brazilian SoulZouk trained teacher with her partner Kris Leczek. Now her love of dance takes her all over the world, to dance, to teach, to inspire.
The reason I love SoulZouk is that it prioritises feeling over appearance. I LOVE to connect and develop that private feeling with another dancer, regardless of how it looks on the outside. To me the most thrilling part of partner dancing is the private conversation, that beautiful communication between two bodies, the magic that can be created when you are fully present and focused on feeling, focused on connection. For me, Zouk isn't just a dance, Zouk is a feeling.
Check out few demos performed by Kris Leczek & Rebekah Maher: