CZC2017 presents: Kraken & Artül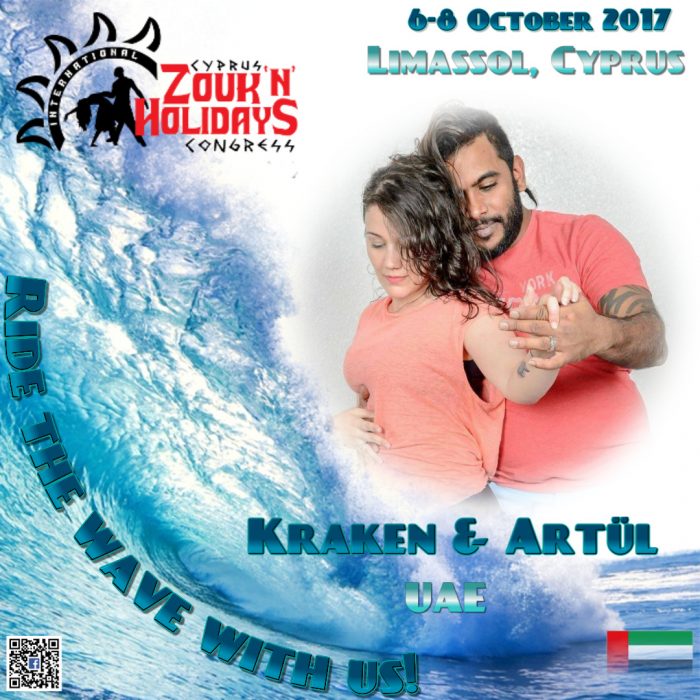 We're happy to welcome a beautiful couple – Kraken & Artül for the first time in Cyprus!
KRAKEN and his wife (partner in crime) Artül, representing Zouk Elements, organizers of ZoukLand Festival, have performed and taught Zouk in several dance festivals and weekends in the Middle East, Europe and Sri Lanka since 2013. In order to spread their love for dance, they travel abroad and continue developing themselves in teaching and dancing.
"It's all about the subtle nuances within the language of music and dance." – KRAKEN. This is how he has grown to become a very dedicated DJ. His unique style offers an inimitable musical experience to many. Offering an evolved approach towards the affinity of Zouk Music and keenly encouraging the innovative over the anticipate. He is as a DJ, dancer, teacher, promoter and co-founder of ZOUK ELEMENTS.
Artül a.k.a. R2D2, born and raised in Turkey, with a thriving passion for dance and music. At the age of 13, she joined to a dance group at her school, performed and competed at several local events in Istanbul for many years. Later during her engineering studies in the university, she attended Hip-hop, funk and jazz dance classes and was selected to the choreographic dance group to perform in several events and festivals. She also took acting classes and played in several dramas by the KASDAV theatrical society between years of 2005 – 2006.
She was introduced to the Latin dance scene in Oman in 2011 and that is how she found Zouk and never looked back. Always keen in learning new techniques, tips and tricks with a passionate drive, she has been teaching regular Zouk classes, workshops, performing and choreographing Zouk shows with her partner, DJ Kraken Andopé, regionally and internationally. She is a dancer, teacher, promoter, co-founder and a key element of ZOUK ELEMENTS.​
Here is a few demos and shows by Kraken & Artül: