CZC 2017: Alex de Carvalho & Mathilde dos Santos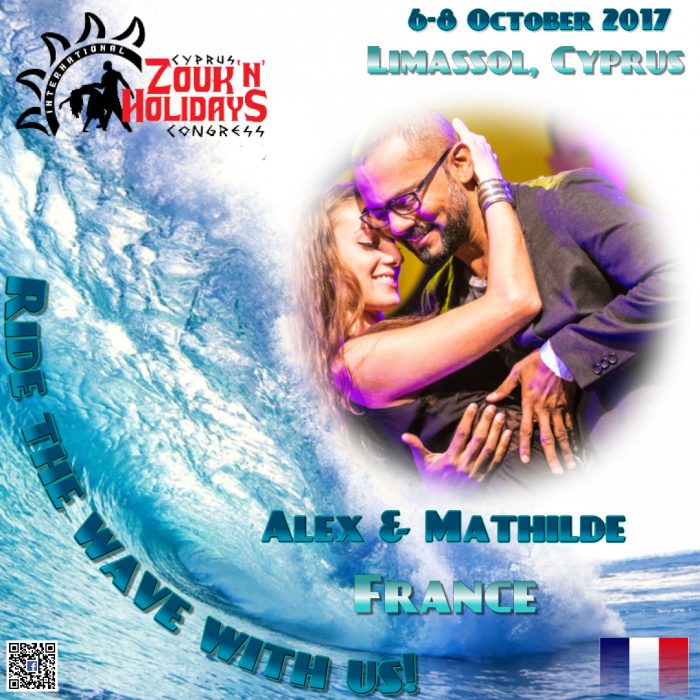 Cyprus International Zouk'n'Holidays Congress is proudly presents! The fist time in Cyprus! Alex de Carvalho & Mathilde dos Santos! From the city of love to the island of love!
Alex de Carvalho, began his dance career in 1996 by joining the Jaime Arôxa Dance Academy. Soon after, he was in high demand, requested to dance and perform in TV shows, serials and soap operas in Brazil. His services as a dance consultant and coach were sort after by many Ballroom Dance Schools in Brazil.
In 2009, has earned the "Medalha Tiradentes", the most prestigious award in Rio de Janeiro, given for his dedication to dance, on behalf of the Culture, Education and Social Inclusion.
Training and mentoring dance professionals all over the world, Alex, who currently resides in Paris, France, is one of the greatest international artists in his field. He has taught many of the world's leading Zouk Lambada Dancers including Kadu Pires & Larissa Thayane, Rafael Oliveira & Juliana Magalhães, Alexandre Gustavo & Isadora Nascimento, William Teixeira and others.
Mathilde dos Santos is a ballerina trained in classical dancing and modern/contemporary dance at the Conservatoire National Supérieur de Musique et de Danse de Paris (CNSMDP) (National Superior Music and Dance Conservatory) and at the Palucca Schule Dresden international dance school in Germany. She is also a salsa dancer.
Alex and Mathilde have been partners for 1 year and a half now and are developing, together, a new body language; a way to intensify the connection between two people through dance and movement.
They are both living and promoting Brazilians dances in Paris, France.