Activity
​"SURF & TURF" (The Akamas Adventure Expedition)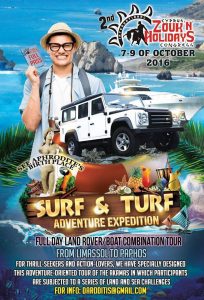 For thrill-seekers and action-lovers, we have specially designed this adventure-oriented tour of the Akamas in which participants are subjected to a series of land and sea challenges:
An adventurous boat ride amongst sea cliffs and off-shore islands of the pristine Fontana Amoroza area, with a famous ex-pirate captain;
A half-day "jeep-safari" in the world's ultimate 4×4 exploration machine: Land Rover Defender;
Viewing underwater canyons and ancient amphora deposits strewn across the sea floor;
Visiting a spectacular 10-meter high waterfall (swimming is encouraged!)
Snorkelling in and out of sea caves and isolated rocky coves with brilliantly turquoise waters (masks and snorkels are provided free of charge).
Standard equipment includes; good walking shoes (trainers are fine!), a bathing suit, camera (underwater camera, if possible), a "no-pain-no-gain" mentality, and an appetite for action.
Special price for Cyprus International Zouk'n'Holidays Congress participants: 75 EUR including lunch, 60 EUR – without. Adventure starts very early on Friday, October 7th.
To book your excursion please use form below!
Fasouri Watermania Waterpark Adventure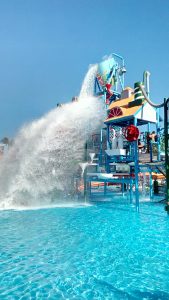 Fasouri Watermania is presently the biggest Waterpark in Cyprus both in size (over 100.000 square meters – 25 acres) and number of attractions and facilities (with 30 different slides for all ages, two restaurants and three snack bars). We entertain thousands of local and tourist visitors every year.
The Waterpark Fasouri Watermania is the ideal place for families, friends and children to spend a one-day outing, away from work troubles and paper loads.
At Fasouri Watermania Waterpark we want you to enjoy being entertained in a safe, fun and relaxing environment. Get away from the hassle and bustle of the crowded city and join us for a unique thrilling experience.
The Waterpark packs an impressive array of attractions, facilities and services. Dressed in a Polynesian theme, the Waterpark gives a tropical feeling to your experience.
Adventure starts at 9AM on Monday, October 10th. Ideal to chillout after three crazy days of workshops and parties!
The price is around 30 EUR. To book your adventure in Fasouri Watermania Waterpark please use form below.
​
Encryptus Realius quest game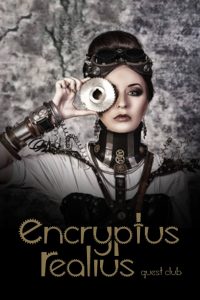 An escape room is a physical gaming space consisting of one or more (usually no more than three) rooms. The players are locked in this space and have to escape within a limited time using various elements of that room to their advantage e.g to solve riddles and tests, look for intricate hidden clues, and etc.
Rooms are usually not very large in size but can have different themes and difficulty levels can be suitable for adults and children, and are usually set in fictional locations, being popular as a team building exercise.The first escape room was created in 2006, and soon became popular in the United States, Japan, Canada, and China, with the rest of the world to follow the trend.
This activity will be on Thursday, October 6 after noon as a part of Old Town walking. Special price – 10 EUR per person per one round of game for all Cyprus Zouk'n'Holidays attendants!
Book your activity now!